---
"Discover the Best Coaching Center for 8th Class Students in Srinagar"
As a parent, finding the right educational support for your child can be a challenging task. But, look no further!
We are proud to be the leading coaching center for 8th class students in Srinagar, providing comprehensive and effective learning opportunities to help students reach their full potential.
About faculty
Our team of experienced and knowledgeable instructors use a variety of teaching methods to engage and challenge students, including interactive lectures, hands-on activities, one-on-one tutoring, and group discussions.
With a personalized approach to education, our instructors work closely with each student to identify their areas of improvement and create a customized study plan that addresses their specific needs.
Our Strategy
At our coaching center in Srinagar, we stay ahead of the curve by constantly reviewing and updating our curriculum to align with the latest advancements in education and technology.
Our students receive the most current and relevant information and resources to help them succeed in their studies.
Our curriculum covers all essential subjects, including Math, Science, English, and Social Studies, ensuring that students receive a well-rounded education.
In addition to core subjects, we also offer extracurricular activities, to help students develop their skills and interests outside of the classroom.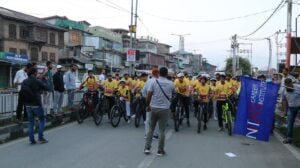 We believe in creating a supportive and inclusive learning environment where students feel confident and motivated.
Come Join us
Our instructors are passionate about teaching and dedicated to helping each student reach their full potential.
Whether your child needs help in a specific subject or a comprehensive program to excel in their studies, we have you covered.
In conclusion, if you're searching for the best coaching center for 8th class students in Srinagar, you've found it!
With our personalized approach, experienced instructors, and cutting-edge curriculum, we are confident that we can help your child reach their academic goals and succeed in their studies.
Enroll now and give your child the support and guidance they need to thrive